It's still Christmas!
We love our Christmas traditions in Northern California, and while it seems that most festivals have been cancelled due to Covid-19, some of the most popular events are still happening, albeit on a modified basis. We listed a few of our favorite festivities that are still happening below. If you decide to attend one of these events, please be respectful of the State and County's public health guidelines for the safety of our community.
Victorian Christmas, Nevada City
Nationally recognized as the "Most Festive Christmas Town in California" by the popular travel website Trips to Discover and the "Best European-Style Christmas Markets in the United States" by Conde Nast Traveler magazine, Nevada City is still celebrating their Victorian Christmas in 2020, but with some changes.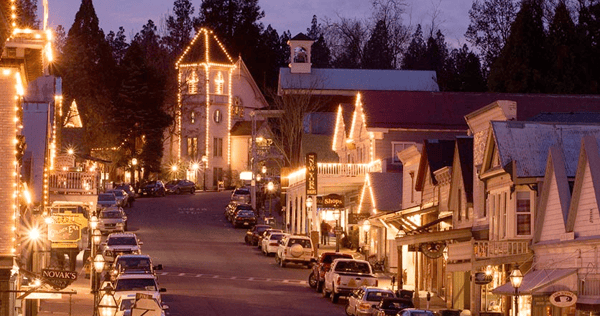 This year, instead of the tent-filled streets with vendors selling their crafts in close quarters, the city is encouraging shoppers to dress up in Victorian and support the local brick-and-mortar retail stores. Those who dress up receive a 10% discount from participating businesses. There will also be live music, and Father Christmas will make his annual appearance on Sunday afternoons.
The Nevada City Victorian Christmas will be held on Sundays (Dec 6, 13, 20) and Wednesdays (Dec 16 & 23). To get there from Roseville, head up I-80 to Auburn, and go North on 49 for about 40 minutes.
Ferndale Tractor Parade
Ferndale is a small city in Humboldt County near Eureka. Every year local farmers decorate their tractors with Christmas lights and pull elaborate trailers depicting festive holiday scenes through the Downtown of Ferndale.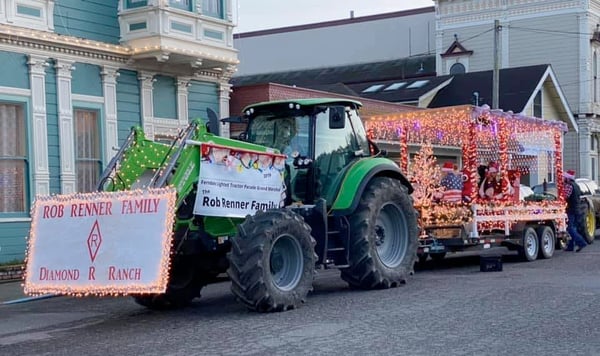 The parade was started over 25 years ago by a local Ferndale teenager who thought that Ferndale should host a lighted tractor parade. First she got her parents on board and their company sponsored the first few years of the event. Over time more and more community members and businesses got involved and started contributing by putting up posters and convincing local dairy farmers to put lights on their tractors and parade through downtown.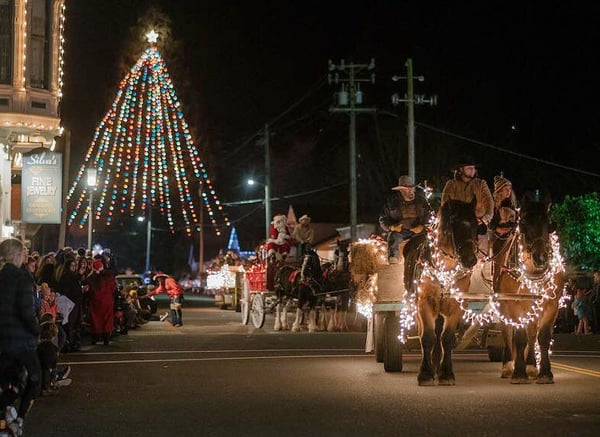 This is a country-style celebration for both locals and out-of-towners alike. Although there is a competition for the best tractor float, it's all about having fun, community and Christmas.
Hidden Lake Estates Luminaries
On Christmas Eve every year, the residents of Hidden Lake Estates in Granite Bay line their roads with luminaries. They use similar candles in brown paper bags for a uniform look that runs throughout the entire neighborhood. With no streetlights and most other lights turned off, the light of the luminaries are the only way to see the roads.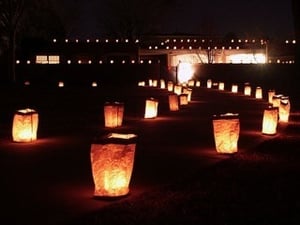 The roads are long and windy, going up and over hills and around corners. The majestic oak trees and well-maintained landscapes in this neighborhood makes it feel like a special place to be on Christmas Eve. The soft, flickering luminaries provide the only light; even car headlights aren't permitted while the luminaries are burning, so please turn your headlights off and drive slowly thought the neighborhood if you decide to go.
The Fab 40's Christmas Lights
If you're a long-time Sacramento resident and Christmas lights aficionado, you might wonder why we're suggesting you drive by these Christmas lights in East Sacramento instead of other well-known Christmas light destinations like Dovewood Ct in Orangevale. Well, the reason is because the Dovewood Ct Christmas lights aren't happening this year (there was some controversy over whether the neighbors or the Sacramento County Health Officials county officials called it off).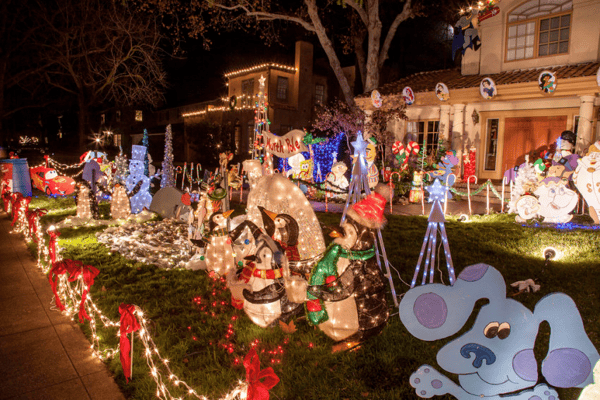 Driving to see Christmas lights with the people you live with should be a Covid-friendly activity, just like putting up Christmas lights on your house - so we recommend doing both!
Events to Look Forward to Next Year (i.e. unfortunate 2020 cancellations):
Theater of Lights, Old Sac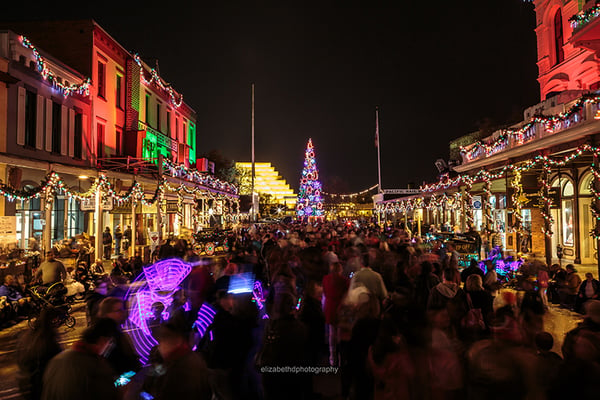 From Thanksgiving to Christmas Eve (with the exception of the 2020 holiday season) the annual "Theater of Lights" is held on the Old Sacramento Waterfront. From the center of K street, where historic buildings line both sides of the cobblestone streets, you can watch the theater performance of "Twas the Night Before Christmas'' take place on the balconies above - it's a live performance featuring Emmy-nominated voice actor Bill Farmer, the voice of Disney's Goofy, and some of California's finest talents in the field of light and sound. It's a magnificent light show that we can't wait to return, hopefully in 2021.
Classic Christmas, Old Auburn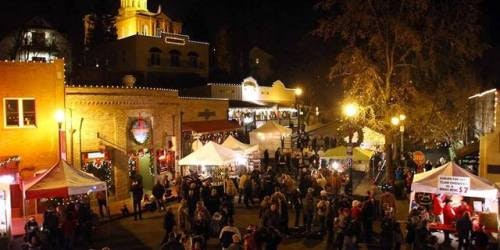 In Old Town Auburn on back-to-back Saturday nights in December you can experience the annual holiday tradition of "Classic Christmas"; a street-fair celebration that's fun and entertaining for the whole family. There's Santa, cocoa and coffee, craft beer on tap from local brewers, live music and dancing, food and plenty of craft vendors so you can find that perfect gift for the hard-to-buy-for.