COVID-19 has changed a lot about how we do business and live our lives, and one unexpected bonus for many is the sudden abundance of remote work. With no end in sight for social distancing protocols, hoards of office dwellers in cities across the US are being liberated from their cubicles and granted the freedom to work from home—indefinitely.
Suddenly a lot of people are reconsidering where 'home' is.
The ongoing rise of urban flight is nothing new. But when San Francisco area tech giants like Google, Facebook, and Twitter recently responded to COVID restrictions by declaring their intention to employ a totally remote workforce, things got real. Suddenly a record number of Bay Area residents have decided to leverage their newfound freedom, pack up their laptops, and flee the city searching for wide-open spaces.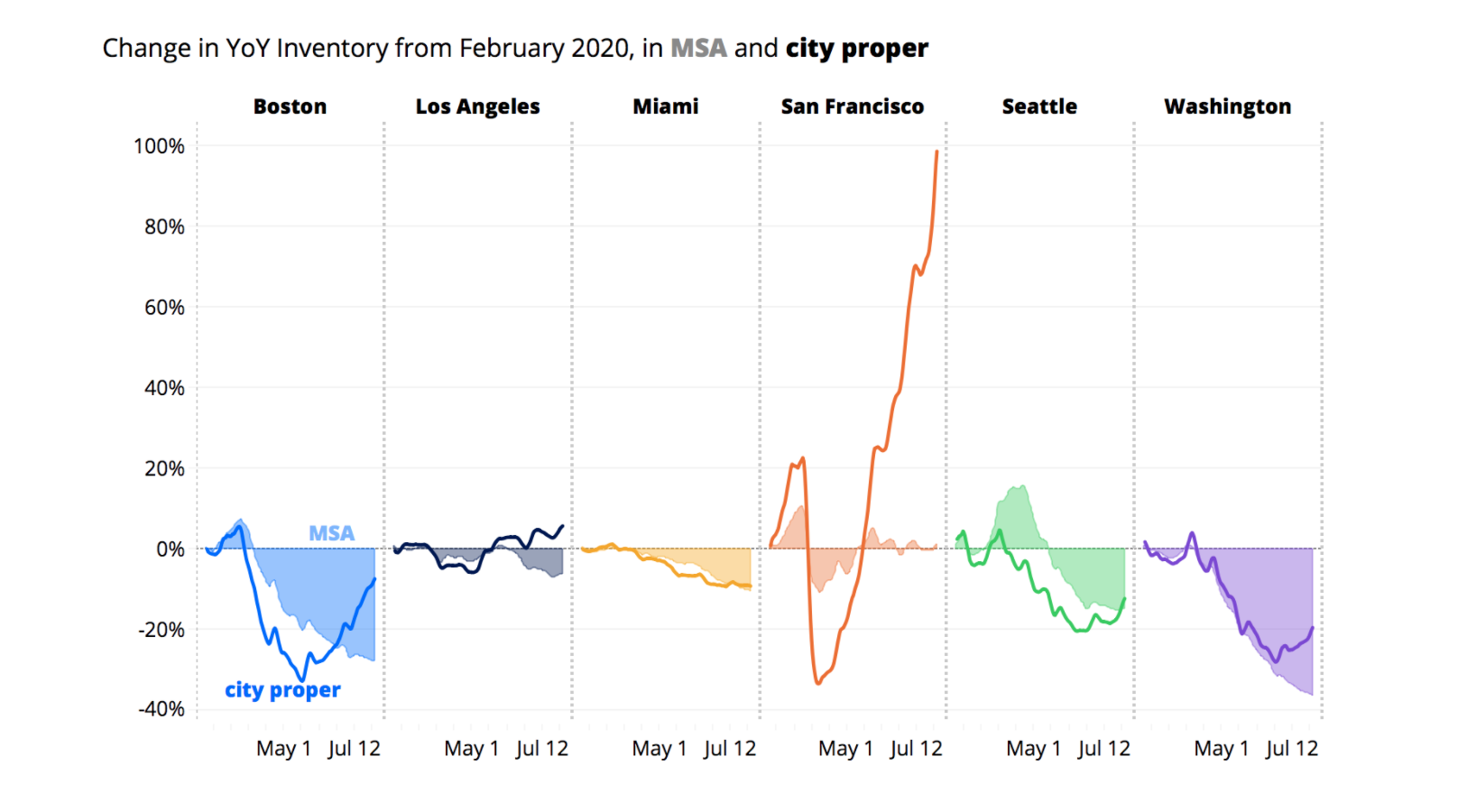 Real estate inventory change from February to July 2020, in metro area and city proper.
Photo: Zillow 2020 Urban-Suburban Market Report
So, where is everyone running off to?
Turns out, an incredible number of Bay-dwellers are setting their sights on the Hight Sierras and scooping up Real Estate in Truckee and Tahoe, CA.
And we're not talking a minor influx.
Truckee buyers are bidding cash offers for homes sight-unseen, often for far more than asking price, and low real estate inventory has driven the average home price to $1,170,000 as of July 2020. That's a 43% increase from the previous year.
Tahoe City isn't faring much better. Real estate Inventory is estimated at one-fifth to one-tenth of average levels, and listings that would typically sit on the market for three to four months are now in contract after just a few days.
I guess we shouldn't be surprised.
Anywhere you go in the Sierras offers wildlife sightings, scenic views in every direction, world-class recreation in any season, and space to breathe.
For now.
At this point, Truckee and Tahoe areas are so impacted, even those with the deepest pockets might not be able to find a house for sale. And since so many current offers are made in cash, sellers aren't so much interested in buyers who require financing to secure a purchase.
We don't need a crystal ball to predict that these cute-as-a-button local ski towns will not hold this distinction for long if overcrowding and overuse continue in this manner.
Luckily, my fellow humans, we are not sheep.
We can exercise our creativity to imagine a myriad of wild and free destinations for relocation—and we don't need $1M cash in our sock drawer to do it.
Plenty of fun and outdoorsy California locations are more affordable than Truckee and Tahoe these days, and they won't be packed to the gills with every neighbor you just tried to leave behind.
Maybe it's time to expand our horizons and consider setting down roots in another recreation-friendly part of the state? Now that your commute doesn't have you shackled to your office address, California is your oyster.
If you agree it's time to color outside the lines and go your own way, here are some smart suggestions for Truckee/Tahoe alternatives that will scratch your itch to relocate and recreate, without the hefty price tag.
Placerville, CA
Median Home Value: $415,616 (via Zillow)
Located in El Dorado County on the Interstate 50 side of the Sierras, Placerville is the perfect combination of gold rush charm, farms and vineyards, and access to the great outdoors. Sacramento is just a short drive away if you need to shop or commute, and you can reach South Lake Tahoe in around an hour.
Climbers will love the Cosumnes River Gorge just outside Placerville. Crag dogs are welcome, and many routes are easily accessible from parking areas (ideal if you've got little ones straggling behind).
Placerville doesn't boast its own winter resort within the city limits, but excellent skiing is less than an hour's drive away. Sierra at Tahoe has been operating since 1946 and offers over 2,000 lift-accessible acres for downhill skiing. Younger family members (or those young at heart) who aren't feeling the ski vibe can check out one of California's best snow parks and spend an afternoon tubing at Blizzard Mountain.
And let's not forget the need for a summertime cool-down. Placerville is only a 15 minutes drive from Coloma, where you can find some of the best rafting adventures on the American River.
Mt.

Shasta,

CA
Median Home Value: $331,270 (via Zillow)
Slightly further to the north near the Oregon border, you'll find Shasta. While it's not known for its resort life, Mt. Shasta is on most backcountry skiers' expedition bucket list. But if you're not interested in working hard to get to the top of the hill, you can still enjoy a lift-access ski experience at Mt. Shasta Ski Park.
If you're more in the mood to send it on two wheels, you'll be interested to learn that Shasta offers lift operated downhill MTB in the summer months and is only a quick 20-minute drive up CA-89 South.
Maybe one of the coolest things about the Shasta is easy accessibility to hiking and backpacking. A favorite day trip among locals is the short trek to Heart Lake, where you can extend your stay into a multi-night backpacking trip without venturing more than a few miles from home.
Wrightwood, CA
Median Home Value: $309,357 (via Zillow)
Close to all the amenities of city life, but not too close, Wrightwood is tucked away in Southern California's San Gabriel Mountains. The town is situated just off the scenic Angeles Crest Highway and gives off a small-town vibe, despite being only 90-minutes from LA. It's just far enough from city life to avoid daily traffic delays, but close enough if you need regular access to serious shopping venues or an international airport.
Wrightwood is home to Mountain High Ski Resort, which is typically open mid-November through mid-April. They offer a variety of amenities, including shopping, dining, and a snow park for the kids.
California based thru-hikers will have likely heard of Wrightwood and perhaps even passed through and resupplied here if they've ventured to conquer the Pacific Crest Trail (PCT). Living so close to the PCT's rugged terrain ensures you'll never be at a loss for adventure.
Which Mountain Town is Right for You?
Maybe you'll still decide Truckee is the only place you're willing to hang your hat. Perhaps you can't imagine a future without the beauty of Lake Tahoe just outside your front door. Sometimes a place speaks to us in ways we can't explain.
But if you're even the slightest bit curious about some of the more affordable California mountain towns we've listed, you could be sitting at the starting line of a whole new adventure.
And just think of all the extra adventure gear you'll be able to afford if you don't blow your entire budget on housing.
REI, here we come.